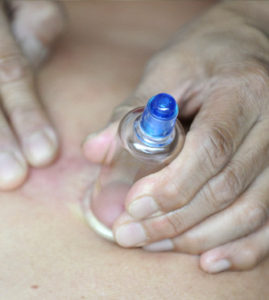 I have studied multiple modalities over the past 2 decades. I am passionate about continual education, as different people resonate with different modalities. Deep tissue, Swedish, Myofascial, Sports, Reflexology, Hot Stone, Trigger Point, PNF (facilitated stretching), Thai Yoga, Orthopedic- have all informed my massage practice.  In your session, I will use various techniques based on what your body responds to and what you request.
Most recently I have studied massage cupping.  I'm excited at the results people have felt, from greater freedom of movement in hips, back, and shoulders, soothing TMJ dysfunction to healing old surgical sites, including decades-old c-section scars. A very soothing unique feeling, cupping lifts and loosens muscle and fascia.  By capillary action, fluids flow into the spaces and rehydrate the tissues.  I liken it to a gentle rain which penetrates hard-packed earth to loosen the soil, making it possible to uproot the weeds.
Visit the blog for further information on cupping.